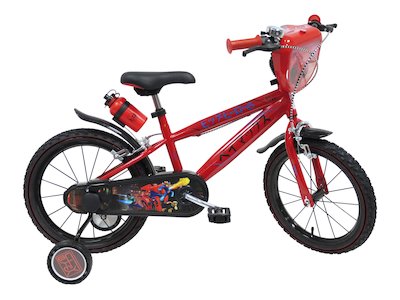 La fotografia puede no reflejar el color seleccionado
Disney Big Hero 6 16" mountain bike
Colour:
Red
Wheel size (in):
16
Bicycle weight:
9.3 kg
Composition:
Steel - Nylon
Size:
Kids 5 - 8
Min-Max seat height (in):
21,06 - 22,84
Gender:
Boy
Box size:
91 x 18 x 50 cm
Components:

Steel Bike frame
Steel fork
Steel adjustable Handlebar
Adjustable seat
Nylon bearings
Freewheel
Steel spoked ALLOY ball bearing wheels
Inflatable tires
2 caliper brakes
Wide stable training wheels with easy release bolt
Colour coded mudguards, chainguard, water bottle & front shield
Child's age: 4-7 years
"
Si quieres ser notificado via email cuando el producto esté disponible, por favor ingresa tu correo electrónico aquí
Normalmente enviamos su pedido a la empresa de mensajería dentro de los 2 días posteriores a la recepción del pago. La empresa de mensajería generalmente entrega dentro de 5 días hábiles. Se le proporcionará un número de seguimiento para ver el progreso de su paquete.
Disney Big Hero 6 mountain bike
Customer satisfaction is paramount to us, so if you are not satisfied with your purchase, we want to know before you return it or leave a negative feedback! Please contact Rosetta: 00 39 0171 911383 or better, send her an e-mail: sales@denverbike.com. There are no issues that we cannot solve!