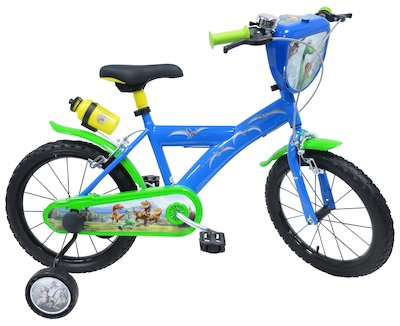 Product picture may not reflect selected color
DISNEY THE GOOD DINOSAUR 16" MTB, INFLATABLE TIRES
Colour:
Blue
Wheel size (in):
16
Bicycle weight:
9.5 kg
Composition:
Steel - Nylon
Size:
Kids 5 - 8
Min-Max seat height (in):
21,06 - 22,84
Gender:
Boy
Box size:
91 x 18 x 50 cm
Components:

Steel Bike frame
Steel fork
Steel adjustable Handlebar
Adjustable seat
Nylon bearings
Freewheel
Steel spoked ALLOY ball bearing wheels
Inflatable tires
2 caliper brakes
Wide stable training wheels with easy release bolt
Colour coded mudguards, chainguard, water bottle & front shield
Child's age: 4-7 years
"
If you want to be prompted via email as soon as this product becomes available please insert your email address here
We typically dispatch your order to courier company within 2 days after receiving payment. Courier company usually delivers within 5 working days. You will be supplied with a tracking number to see the progress of yous parcel.
Disney Good Dinausor mountain bike
Customer satisfaction is paramount to us, so if you are not satisfied with your purchase, we want to know before you return it or leave a negative feedback! Please contact Rosetta: 00 39 0171 911383 or better, send her an e-mail: sales@denverbike.com. There are no issues that we cannot solve!