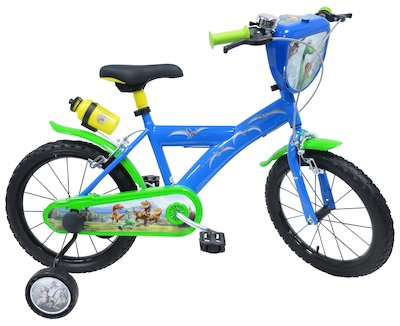 Produktbild entspricht eventuell nicht der ausgewählten Farbe
Disney The Good Dinausor 16" mountain bike
Colour:
Blue
Wheel size (in):
16
Bicycle weight:
9.5 kg
Composition:
Steel - Nylon
Size:
Kids 5 - 8
Min-Max seat height (in):
21,06 - 22,84
Gender:
Boy
Box size:
91 x 18 x 50 cm
Components:

Steel Bike frame
Steel fork
Steel adjustable Handlebar
Adjustable seat
Nylon bearings
Freewheel
Steel spoked ALLOY ball bearing wheels
Inflatable tires
2 caliper brakes
Wide stable training wheels with easy release bolt
Colour coded mudguards, chainguard, water bottle & front shield
Child's age: 4-7 years
"
Bitte geben Sie Ihre E-Mail Adresse an, um per E-Mail über die erneute Verfügbarkeit informiert zu werden Sie hier
Wir versenden Ihre Bestellung in der Regel innerhalb von 2 Tagen nach Zahlungseingang an einen Kurierdienst. Kurierunternehmen liefern in der Regel innerhalb von 5 Arbeitstagen. Sie erhalten eine Tracking-Nummer, um den Fortschritt Ihres Pakets zu sehen.
Disney Good Dinausor mountain bike
Customer satisfaction is paramount to us, so if you are not satisfied with your purchase, we want to know before you return it or leave a negative feedback! Please contact Rosetta: 00 39 0171 911383 or better, send her an e-mail: sales@denverbike.com. There are no issues that we cannot solve!